In this infographic we challenge some of the stale thinking when it comes to marketing to the over 55's travel market.
Today's travelling seniors spend hundreds of hours on the Internet researching travel over the course of the year!
As a result, they have become experienced travel researchers and as their confidence grow, become more likely to book and pay for the travel online.
Ignore this market at your own risk.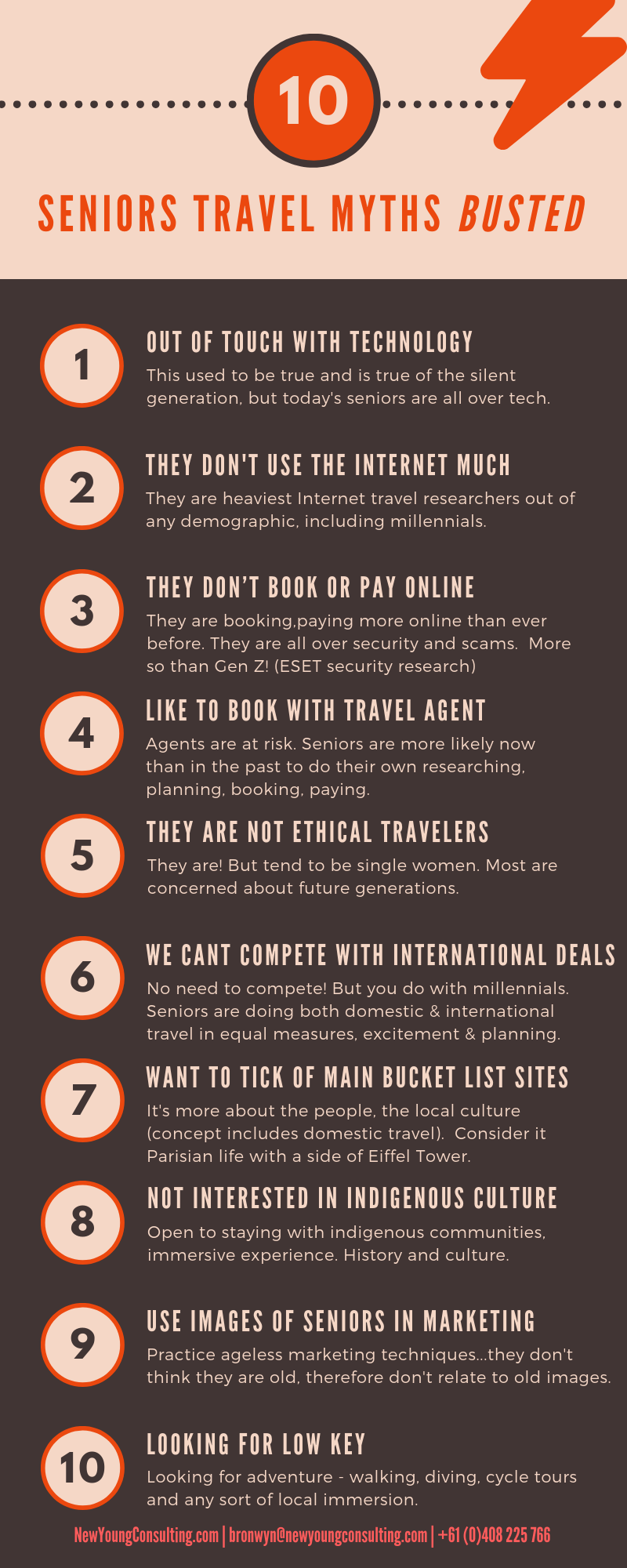 Bronwyn White, is the CEO of New Young Consulting  a market intelligence and strategic marketing agency that specialises in the seniors travel market.
She brings with her an unrivaled understanding of how the travel industry works including the nuanced complexities and a complete, well rounded understanding of the travellers it serves.
She has been watching and researching  the baby boomer generation for the last 15 years, in particular travel planning and booking habits.
Bronwyn is a globally recognised market researcher with a travel sales and marketing background.  Over 30 years she has worked in a wide range of travel industry verticals including:
Airline (Qantas)
Sales reservations
Wholesale, Retail sales, Corporate sales
Sales representation – groups
Marketing
Market research and consumer insights
Destination marketing manager (Destination NSW)
Travel research specialist at a large research agency (TNS)
Co-Founder of Domesticate, an annual syndicated study into the Australian travel market
CEO /Co-founder at boutique research firm MyTravelResearch.com
Author of the book Seniors Travel Tips
Owner and founder of New Young Travel, a travel blog for +55's established 2006
We will never see another business sector like the over+50s economy. Increase your relevance, connect with the 3rd largest global economy (behind USA and China), create loyalty, raving fans and increase your revenue.